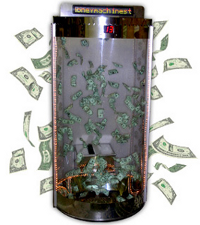 Tradeshow attractions are designed with one very important purpose in mind – attracting visitors to your booth. Who wouldn't be attracted to the idea of fists full of cash? That's just what you get when your tradeshow attractions include a cash cube. There different things you can choose from, but they would be hard pressed to draw a crowd the way a money machine can.
Visual Impact Of The Money Machine
As tradeshow attractions go, the money booth is known to draw some of the biggest crowds. The money machine, or cash cube, resembles a phone booth – with a twist. It is filled with swirling cash or coupons for prizes. If nothing else it creates a spectacle that's hard to miss. It's hard to miss a booth full of flying money with a frenzied tradeshow visitor inside desperately trying to snatch up the prizes.
One thing about choosing a cash cube, as opposed to other tradeshow attractions, is that the activity is not just fun for the contestant in the clear cube. It's also gripping for spectators who gather in hopes of becoming the next lucky contestant.
Draw A Crowd And Engage Visitors
Even in a tradeshow room jam packed with information, displays, and activities a money booth will be hard to miss. It will stand out and draw a crowd where a standard video display or other tradeshow attraction fails to. The prizes are part of the game and the exhibitor chooses the prizes – make it any cash denominations or prize certificates for anything you choose.
Increasing in popularity, the money machine always creates a buzz that permeates the convention center. Contestants take away hands full of cash and prizes, and they can't help but spread the word. Whether they want their friends to share the wealth, or they just want to brag about their own good luck, they will be talking about your tradeshow attraction.
As the line forms at your money machine, take the opportunity to engage, inform, and educate your visitors. Answer any questions they have and ask for contact information or business cards. This is why you chose a high profile tradeshow attraction – to attract visitors. Be sure to have plenty of well trained staff on hand to help engage visitors as they wait in line or simply watch the other contestants try their luck.
A Customized Cash Cube Enhances Your Brand
Like other tradeshow attractions, a money machine can usually be customized with your brand and colors for the greatest impact. Include your message and product information, logos, slogans, URL, etc. You can have them permanently affixed or applied with removable banners, depending on whether you're buying or renting the cash cube.
By using a money machine, your brand will be remembered long after the convention is over as one of the most exciting, fun, entertaining attractions at the show. With all the tradeshow attractions to choose from you can be confident that the promise of cash and prizes is sure to draw a crowd to your next trade show exhibit.
About the Author
Jon Edelman provides exciting trade show marketing ideas, including advice about prize wheels, customizable scratch-off cards, money blowing machines, and other exciting trade show attractions. With years of experience in the trenches, he is an expert on booth displays, lead generation techniques, and networking with trade show vendors. Helping to build a referral-generating system, his ideas continuously lead to a boost in sales and revenue.