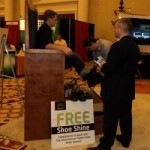 Las Vegas has firmly established itself as a hotspot for trade show exhibits and functions. Yes, this world renowned location has a reputation for 'round the clock fun and excitement, but it also has earned a status as a buzzing business hub for companies looking to promote services and wares as well as promote brand recognition on a global scale. Each year, businesses in every industry flock to this western locale to set up their exhibits and engage with the meandering masses to generate leads, network, and ultimately, close business.
While event attendance is rarely an issue at a Las Vegas function, companies that have successfully navigated through a Las Vegas tradeshow understand that enticing guests to visit their individual business booths is the key to leveraging and optimizing opportunities at each event. They also recognize that simply setting up a visually appealing exhibit and passively waiting for guests to stop in is just not enough. Instead, these savvy entrepreneurs proactively utilize traffic builder innovations to ensure that the crowd will feel compelled to check out their products and services more closely. If you're looking for a convenient, non-intrusive traffic builder for your next Las Vegas event, consider offering guests a convention shoe shine.
What To Look For When Sourcing A Convention Shoe Shine Service
While the list of candidates is lengthy, it's important to note that in order to maximize the ROI on these efforts, partnering with a professional convention shoe shine vendor is imperative. Look for providers that offer various services based on the potential lead. Just like some businesses opt to offer different levels of giveaways to passersby and more heavily engaged participants, a reputable convention shoe shine provider should offer your business different types of shoe shine services to appropriately reflect the level of interest of each guest.
You will also want to make sure the convention shoe shine provider you use will fit comfortably in your booth. Shoe shine professionals use an elevated chair for guests to sit in during their services. Most chairs, also called 'thrones', are large and only work well in bigger booths. But some convention shoe shine providers have noticed the trend in more compact booth spaces and have created smaller chairs that are ideal for 10×10 booths.
Important Features Of Using A Convention Shoe Shine Service As A Traffic Builder
Organizations that incorporate a convention shoe shine professional at a Las Vegas tradeshow enjoy a litany of features and benefits uniquely tied to these services. Chances are, everyone at the Las Vegas tradeshow will be wearing shoes. Unlike other methods designed to draw in a crowd that might only target a certain demographic, a convention shoe shine offers universal appeal.
Additionally, convention shoe shine professionals can also deliver unparalleled relaxation to visitors checking out your business booths. Yes, services like free massages and the like offer a relaxing option for exhibit guests, but successfully engaging with these potential clients during a massage can prove challenging at best. Providing a convention shoe shine offers guests an opportunity to sit, relax, and be treated like royalty.
Best of all, a convention shoe shine service offers your staff a captive audience to pitch to. Potential clients are completely at ease during the shine process, yet still able to engage with those around them, offering your stellar sales team the perfect opportunity to comfortably interact with them without feeling like they are trying too hard or interrupting. A true win/win for both customer and exhibitor! A Las Vegas convention shoe shine professional is an excellent traffic builder for any trade show booth.
About the Author:
Roger Green is the owner of A Vegas Shoe Shine, the leading provider of convention shoe shine services in the Las Vegas trade show industry. Shoe shines have been shown to improve an exhibitor's ROI by attracting attendees into a booth, improving product visibility, and facilitating sales. http://www.avegasshoeshine.com/