Trade show displays act as a billboard advertising your services, products, or company at expos. Most attendees will only stop at booths that will attract their attention in less than three seconds as they walk past. One wrong design move could mean a loss of traffic and lead generation for you. Here are the top design tips you should be using for maximum results.
Have an Open Layout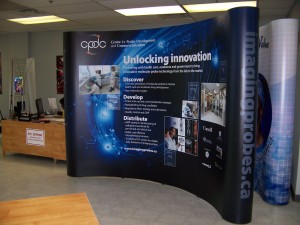 It does not matter if you are using a small or massive booth, having an open layout will make it appear much larger and more inviting to potential customers. Keep the center of the booth clear of any debris that could be blocking traffic, such as products or tables. If you do need to put products on display, consider using shelves to keep your booth free from clutter or placing tables on the outer edges of your booth space
Emphasize Your Brand
If attendees have to walk up to your booth and ask who you are, then some changes need to be made. Strategically place your brand throughout the booth to be easily seen by attendees who are both walking down the trade show aisles and who are walking through your booth. The more your logo and company name is placed throughout the booth, the more it will be remembered by possible new clients.  
Graphics Should be Professional
Unless you have graphic experience, do not decide to try out Photoshop when trying to design your trade show display graphics. Amateur-looking graphics can actually hurt your results and give attendees the impression that you are a less-than-professional company. If you do not have a graphics department at your company, some trade show display vendors can create graphics for you.
Incorporate Contact and Social Media Information
Let your audience know exactly how they can connect with you outside of the trade show by including your social media pages, phone numbers, locations, and any further information they may find helpful. QR codes can also be added throughout the booth that will take attendees to a website page with this information. Literature, presentations, or videos should also include this information.  
The face-to-face interactions found at trade shows can help build your professional network, boost brand awareness, demonstration and launch new products, and capture leads. With these tips, you will get excellent results at your trade show exhibit.
About the Author:
Kristin Hovde is the Website Manager for Smash Hit Displays, an online company that sells trade show displays and accessories. She has written business, marketing, and trade show articles for many other websites, including Business.com, TSNN, Social Media Today, and Duct Tape Marketing.