About
Trade Show Displays
Are you looking to transform your exhibit booth into a traffic-stopping destination? Using a Trade show display from the Trade Show Marketing company will help you turn heads, and attract the positive attention you are looking for at any expo or promotional event. Having an excellent booth design can be an instant draw for attendees, and when a booth oozes professionalism, it's guaranteed to be successful. We can help you stand out at your next trade show, we believe there's always room to grow, and we want to help you get to where you're dreaming. Having the right trade show booth displays, and signs can make a huge difference. When putting together a booth you need to highlight what's unique about your business, making the information easily understood but also creating something visually appealing. Leaving an impression on attendees is an essential factor when you attend any trade show. From commanding backdrops to trendy furniture, eye-catching banners, and quality accessories, we carry all of the trade show supplies needed to help create the best expo booth setup for any show floor.
Stand Out At Trade Show Exhibits
Trade Show Booth Displays
Creating an exhibit for a trade show has many benefits. Whether you're looking for more visibility or trying to establish some credibility in your industry, a trade show presents you with a powerful platform for meeting new prospective customers or clients. Trade shows can assist you when you're trying to inform the industry that you're a reliable partner and brand. Developing a trade show exhibit can be costly, and puts off many brands from exhibiting. While developing a trade show exhibit can be demanding training staff members, and traveling to the event is an expensive process, it is still a very beneficial tool for any brand. In some cases, some brands "cut corners," beginning with their trade show booth, don't let that happen to you. We can tell you everything you need to know, before purchasing a trade show booth.
Pop Up Trade Show Displays | Display Booth
Pop Up Displays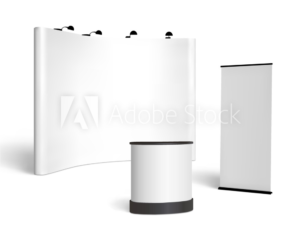 Getting lost in the crowd is easy to do with all the buzz and activity at industry events. If something you're looking for is a different kind of display that stands out at a trade fair and exhibit show look into a customized pop-up display. These displays are more significant than most posters or banners; these high-res, high-quality products give your whole area an eye-catching professional look. Free-standing and lightweight, pop-up displays are durable enough so that you can use it over and over.
Pop Up Booth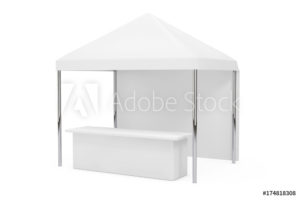 Affordable Exhibit Displays have been exclusively manufacturing 1UP brand pop up displays since 1999 with quality has surpassed the competition. All of the production of our premium pop up displays, and printing is completed at our facility in Maine USA and considered the "MOST POPULAR" in trade show display style. For decades we have provided great strength, and consistent reliability all while staying within a surprisingly compact travel size. The 1UP pop-up display offers an auto-locking magnetic feature that clicks together providing a strong framework for your fabric panels or graphic panels. It's easy to notice that our 1UP displays have some unique features that will be hard to find anywhere else. These features help to set it apart from others in the competition and include the rugged ½" thick aluminum frame, the no-fail Neodymium magnetic locking system. If these wonderful features don't already have you sold on our product our "No Questions Asked" Lifetime Warranty is sure to grab your attention.
Banner Stands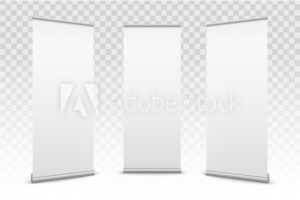 Have you ever thought about what portable advertisements can do for you and your business? Having a colorful banner display with digital printing can provide strategic marketing. Whether flying a feather flag outside your retail establishment or displaying a retractable graphics stand inside your trade show booth, these indispensable advertising fixtures pack the biggest promotional punch. Banner displays are tall by necessity because they need to stand out amongst the competition within the sea of convention attendees. If you want visitors to be drawn to your booth before they even set foot in it, you need to have the visual cues these portable signs provide. Our banner displays come with many options so feel free to take a look at them in a little more detail.
Island Exhibits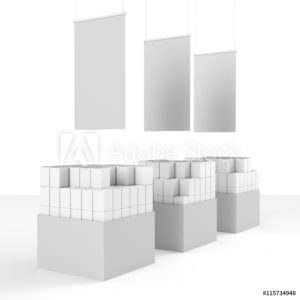 Nothing takes over a floor show like an eye-catching Island Exhibit design. Islands are considered to be the BIG DADDY of any trade show event. With an island exhibit, you're not only showcasing your product or service; you are making a STATEMENT. Create your presentation space with a sense of freedom. You can have a causal lounge, create a meeting room, or even multiple workstations.
We have over 100 designs for you to explore, whether you need a 20 x 20 or a 70 x 90 we can help you create the space you need. Many of our designs can even be re-configured into smaller inline displays if that's something you're looking you need. Visit with us, and let us create an island design that fulfills all of your trade show needs. Call us now, or check out the many options we have to offer online.
Portable Display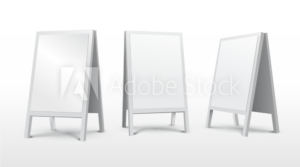 In our extensive line of portable display products, we carry products that are perfect for use in trade shows, events, and in other interior spaces such as retail, corporate, healthcare, educational institutions and much more. With our vast array of portable trade show exhibits, off-the-shelf modular displays, fabric structures, outdoor displays, and accessories we offer our clients flexibility that includes graphics options, affordability all with the ease of use as well as a speedy turnaround time.
Having a portable display offers numerous benefits and utility to exhibitors. They are easy to use, provide excellent quality and are often impactful. The lightweight and compact nature of our portable displays are ideal for shipping, making storage and transfer to and from shows simple. Setting up and taking down our mobile displays is quick and easy, which is a beneficial factor for exhibitors who attend multiple events.
If you are looking for a broader range of off-the-shelf displays solutions to fit your needs, look into what Nimlok has to offer.
Fabric Displays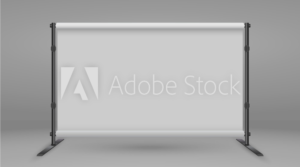 Tension fabric graphics displays are known for their easy assembly, can be easily transported, and are lightweight, affordable replacement graphics. Some of the available accessories include stretch fabric display stands, backdrops, and curved displays. If you're looking for a unique display system that meets your needs, ask about our in-house design services.
Exhibit Displays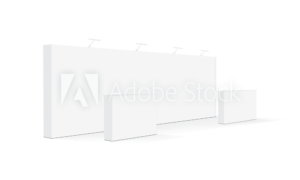 One of the many reasons to look into our exclusive collection of trade show displays is that our team can meet even the strictest branding requirements. We can also help you create an eye-catching original design.
Maybe you need a large, dynamic trade show exhibit to attract visitors to your area of the convention. We have some news we think that you'll love. With our multitude of styles for pop up displays, graphic backdrops, and trade show truss display you will undoubtedly be a hard booth to miss.
Literature Racks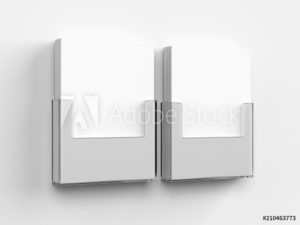 Are you looking to create a professional literature display? Something that is clean cut and doesn't overshadow what you aim to market? Countertop catalog and brochure racks help you to feature leaflets with high visibility designs. Presenting marketing and promotional materials in service organizations, retail stores, restaurants, and information centers can be that easy. There are many different style types, and we offer you a wide variety of single-pocket and multi-tier designs. Countertop catalog and brochure racks come in a full range of shapes and sizes to accommodate tri-fold pamphlets, flyers, and magazines. Browse our desktop literature stands with adjustable pocket widths, portable constructions, and custom print options for high detail branding. Our countertop catalog and brochure racks excel in making ideal sales and marketing displays both in the office and at trade show events.