In the "old days" before anyone with an internet connection could see your company's flashiest, newest presentation online, trade shows were often the forum for launching new products, releasing updates, and making company announcements. Visitors included some decision makers, along with many junior personnel who walked the floor to learn and enjoy a couple days of business travel in a different city. Now that the internet can both deliver the presentation and facilitate online meetings, are trade shows irrelevant?
Diminishing trade show attendance numbers may suggest this, but trade shows still have a very important role to play in product sales and marketing. Since attendees are more discriminating about which shows they support, the onus shifts to exhibitors to make the shows "unmissable." The result? Good trade show marketing must now make the in-person experience more valuable than the online experience.
Product Releases And Promotions That Pops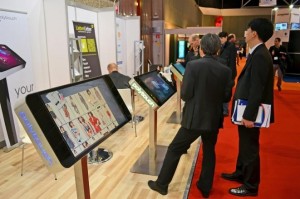 Just as there is a difference between seeing Star Wars on a 50′ movie screen or 15″ laptop monitor, trade shows offer you the opportunity to showcase your product or service in a big way. You can't have live fireworks in the exhibit hall, but you can surround your product launch with the equivalent through entertainment, interactive displays, demonstrations, and one-on-one consultations to make it all larger than life. If your trade show marketing strategies incorporate a Twitter and Facebook presence, you can invite visitors to your booth to be the FIRST to see your announcement or product presentation live. Stress the value of experiencing the event in-person!
Plan to have plenty of highly-knowledgeable, friendly staff on hand to answer questions from both the trade press and potential buyers. Though your presentation may incorporate video presentations and other technology, engaging staff can interact with impressive technology for maximum effectiveness.
Competitor Faceoff
Trade shows have a "keeping up with the Jones" element, as your competitors are often present at the show within a few feet of your booth. In some industries, you "must" attend certain shows to be considered a major player. Having a well-designed booth that incorporates current trade show ideas offers you a chance to show how your product and the knowledge, professionalism, and friendliness of your staff compare with competitors. When products are similar, booth presentation and effective personal interaction can make all the difference, giving you the opportunity to outshine your competitors in a show situation. Without ever saying anything negative about them, you can clearly underscore the differences between buying from your company and theirs.
The Personal Touch In Trade Show Marketing
Trade shows offer a unique opportunity to meet with customers, potential customers, and vendors all under one roof. Even if most business takes place online or by phone, putting a name with a face and developing a relationship via a conversation in the booth or over dinner still has immeasurable value. Best of all, many of the people who attend shows these days have buying authority, so even if you don't make sales at the show, you have the opportunity to develop potential projects and establish a buying timeline with these visitors.
If you use trade shows as a forum for training, you can interact personally with participants, getting instant feedback that can shape further marketing materials, presentations, and product development. You can even turn the on-the-spot feedback about your product and your team into valuable testimonials.
Despite attendee statistics, trade shows are anything but irrelevant in today's internet age. With trade show marketing and execution that stresses the value of face-to-face contact and seeing presentations live, shows will continue to be a useful tool for exhibitors and attendees alike.
About the Author
Jonathan Edelman provides exciting trade show marketing ideas, including advice about prize wheels, customizable scratch-off cards, money blowing machines, and other exciting trade show attractions. With years of experience in the trenches, he is an expert on booth displays, lead generation techniques, and networking with trade show vendors. Helping to build a referral-generating system, his ideas continuously lead to a boost in sales and revenue.